What is ACF-50?
ACF-50 (Anti-Corrosion Formula) was originally designed to protect aircraft from existing and new corrosion and is now available to motorcyclists. Aviation products have to meet rigorously high standards and ACF-50 not only meets these but has been awarded Aviation approvals - MIL-SPEC 81309 types II and III which means it is 'approved for ferrous and non-ferrous metals, electrical systems and electronic components'. The US Navy carried out tests using ACF-50 on the jets on their Aircraft Carriers. They found that ACF-50 so significantly reduced the corrosion they had previously experienced they now use ACF-50 all the time!
It works perfectly in that type of harsh environment so imagine how well it's going to protect your bike!
When applied ACF-50 forms an 'Active' ultra-thin clear film that will kill any existing corrosion cells and will protect your bike against new corrosion forming. On areas such as switches or under the tank and seat, one application will last up to 12 months. Other more exposed areas will need topping up more regularly. ACF-50 has the ability to 'chemically neutralise road salt' and water will bead on contact and literally bounce off. Ideal for the bike that is used all year round in all weathers, a superb service spray as ACF-50 is also a lubricant and penetrant (without loosening structural attachments) and if you put your bike away for the winter, applying ACF-50 will ensure that moisture will not be allowed to cause any damage! Untreated moisture will creep into cracks and will not freely evaporate - ACF-50 actively ejects moisture from these areas.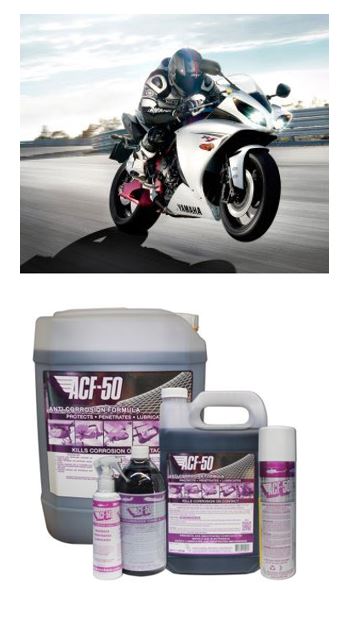 The Facts
Kills existing corrosion and prevents new
'ACTIVE' for up to 12 months
Excellent lubricant and penetrant
Approved for use on electrics and engines
Easily applied non-drying, ultra thin, clear film
Very economical
Contains no wax, silicon, Teflon or water
ACF-50 - In Brief
ACF-50 is a light carrier with a proprietary package of additives that transform it into an astonishing creeping-fluid AND an outstanding de-watering fluid too. These properties mean that just the smallest amount will get into every crevice, every blemish of corrosion, and utterly remove the water. No water means no corrosion, period. And that's just the start of it. ACF-50 stays in place for as long as a year, actively spreading, sacrificing itself to keep corrosion at bay.
FACTS ABOUT ACF-50
MIL SPEC 81309 TYPE II AND III APPROVALS which means ACF-50 is approved for ferrous and nonferrous metals, electrical systems and electronic components.
CHEMICALLY NEUTRALISES corrosive environmental effects, particularly crud, dirt and road salt.
EASILY APPLIED non-drying, ultra-thin, clear film.
CONTAINS NO WATER,SILICON,TEFLON OR WAX no sticky build up, no risk of existing corrosion being sealed in and no risk of water remaining where it will cause corrosion and damage, even on electrics.
'ACTIVE' which means that it 'creeps' and 'keeps on working'.
DOESN'T NEED REAPPLYING AFTER EVERY WASH! Under tanks/seat areas, on electrics etc. ACF-50 will last up to 12 months. On more exposed areas retreat as necessary.
ECONOMICAL - 95% Product - little goes a long way - lasts ages.
SAFE TO USE ANYWHERE ON THE BIKE (but go easy on the callipers due to the obvious need to avoid the brake discs & pads!) Can be sprayed directly into electrical joints and components where it will prevent corrosion induced failures and high resistance joints.
SERIOUSLY ENHANCES the look of the bike and brings black trim up a treat.
LIGHT LUBRICANT & PENETRANT.
All Year Round SERVICE SPRAY.
AS CLOSE TO ZERO CORROSION AS NATURE WILL ALLOW!
How to Use
ACF-50 is 95% product, hence virtually no propellant. Keep the tin in a warm environment, shake very well before use and remember a little ACF-50 goes a long way, so keep a rag handy to soak up any excess - then use the rag to help spread the product. ACF-50 has strong capillary action so will creep into all the areas that moisture can, 'actively' pushing out moisture and replacing it with protection. Go cautiously when applying to callipers to ENSURE YOU KEEP IT OFF THE BRAKES.
Use ACF-50 anywhere, except the brakes, on your bike including the engine and exhaust (will smoke on first start and burn off down pipes but still slows down corrosion process). Safe on paintwork, most rubbers and brings up black plastic trim a treat. ACF-50 contains no water and is approved for electrics so spray directly into electrical joints and components where it will prevent corrosion induced failures and high resistance joints. Works well at stopping dirt, mud and salt from sticking. You can come back from a winter ride with the bike 'white with salt' - a quick wash off and it's gone with the bike still protected.
Areas not in direct contact with the elements ie tank/seat areas, electrics require treating approx once a year. Other exposed areas re-apply as necessary. You can tell the product is still 'Active; as water will bead on contact...having no water content and not being water soluble ACF-50 only dissipates by being 'sacrificial' whilst stopping existing or new corrosion so just re-treat as required.
Remember, ACF-50 protects jets on US aircraft carriers! If it works for these jets in these conditions, think how well it's going to work for your bike!