What is Corrosion Block?
Corrosion Block – Is the Industrial / Marine version of ACF-50. The main difference being a marginally thicker film and better suited where there may be dissimilar metals and / or salt water spray – so more suitable for Automotive/Marine/Industrial use.
Corrosion Block is now well established in the Automotive market with many Classic & Modern owners realising the benefits of pro-active corrosion control.
Vehicles enjoying protection are many and varied – from Supercars to Ford Fiestas!.
Corrosion Block grease has the same anti corrosion properties in a grease form - again for many applications – cv joints, wheel bearings etc as well as electrical applications requiring grease.
Reasons why you should specify Corrosion Block for your maintenance:
1. It is a clear, low viscosity product that forms an active ultra-thin, fluid film
2. Has active moisture displacing agents and several active corrosion inhibitors
3. Dielectric breakdown of 40,000 volts: allowing it to act as a liquid insulator, at the corrosion level.
4. No Increase in electrical resistance.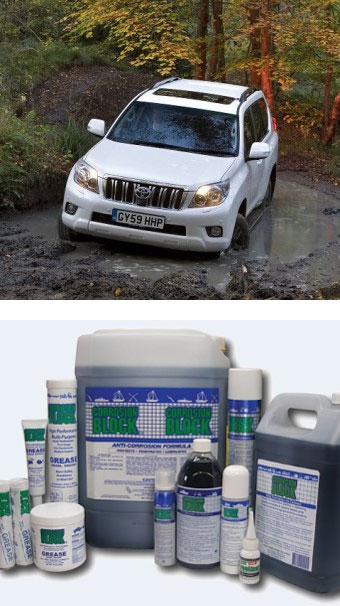 Corrosion Block - In Brief
Corrosion Block is a proprietary package of additives in a slightly thicker carrier than ACF-50. The additive package makes Corrosion Block into a high-adherence creeping-fluid AND an outstanding de-watering fluid too. These properties mean that just a smallest amount will get into every crevice, every blemish of corrosion, utterly remove the water and stay on task, even under maritime conditions. Removing water means stopping corrosion dead in its tracks. With the extra adhesion Corrosion Block stays in place for up to six-months, even more in voids and seems. It is resistant to road-salt-spray, actively spreading, sacrificing itself to keep corrosion at bay.
Corrosion Block, the Facts!
'ACTIVE' long-lasting, 'non-drying'
Kills existing corrosion
Prevents new corrosion from forming
Excellent penetrant & lubricant
Approved for engines & electronics
Contains NO silicon, wax, resin, tar, asphalt or Teflon
NOT WATER SOLUBLE
AS CLOSE TO ZERO CORROSION AS NATURE WILL ALLOW!
Click here for Material Safety Data Sheet (Aerosol)
Click here for Material Safety Data Sheet (Grease)